Sydney's first (?) T.G.I.M.B.O.E.J
By Ahmad Tabbouch - Initiated Monday, March 18th 2013 @ 11:12:00 ADST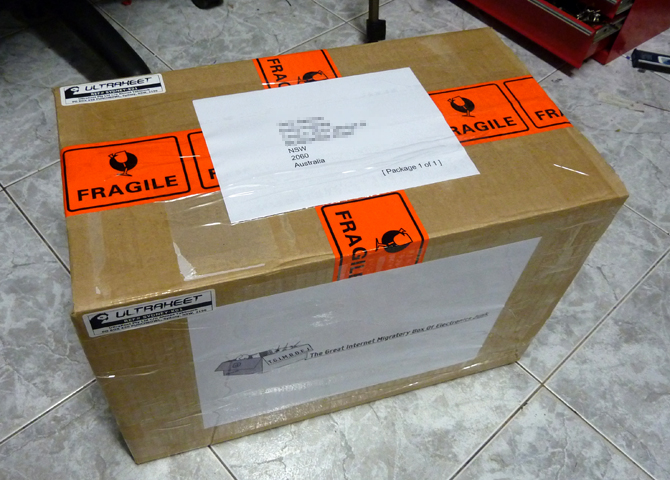 We're sending out our first Great Internet Migratory Box of Electronics Junk to Terry from the Robots and Dinosaurs Hackerspace tomorrow!

Check out Terry's Google Plus page and also his Impulse Noise Blog
The box (ID# Sydney-K01) can be tracked on the T.G.I.M.B.O.E.J Box Tracking page, and you can read more about our particular box HERE
New Tutorial! DIY Stun Baton
By PodeCoet - Initiated Friday, November 2nd 2012 @ 14:08:08 ADST
I've always wanted one of these.

I'm too tired to write anything else here, there are pages and pages of photos, text and video HERE, though.


Hooray, we're back online!
By PodeCoet - Thursday, September 13th 2012 @ 22:18:55 AEST
Updates have finally been completed, though I haven't had a chance to post any new write-ups yet. I've uploaded one of my older write-ups from 2007 for a laugh, though.

On the upside, Doug's Webstore has finally launched, and local pickup is available within Sydney!

The first write-up of the year should be posted within the next week or so, with the next two following soon afterwards. Check back soon if you're bored and have nothing better to do

All the best!


By PodeCoet - Friday, August 24th 2012 @ 19:40:01 AEST
G'day Ladies and Gents

I'll be taking the website down for maintenance tomorrow evening and replacing it with a boring, white-on-black maintenance page

The write-ups still contain links to our former webstore, and it's causing copious amounts of buggery and confusion - also, I want to play with mod-rewrite and databases.

See you in maintenance hell!
Collaborative effort - Monday, May 7th 2012 @ 20:55:06 AEST
Well, it's finally happened - The UltraKeet Webstore has ceased to exist. Thank you kindly for your supporting us, the Parrot Rescue Centre and Big Ears Animal Rescue in the past!



-Your friends at UltraKeet in Sydney